Guide to Old Orchard Beach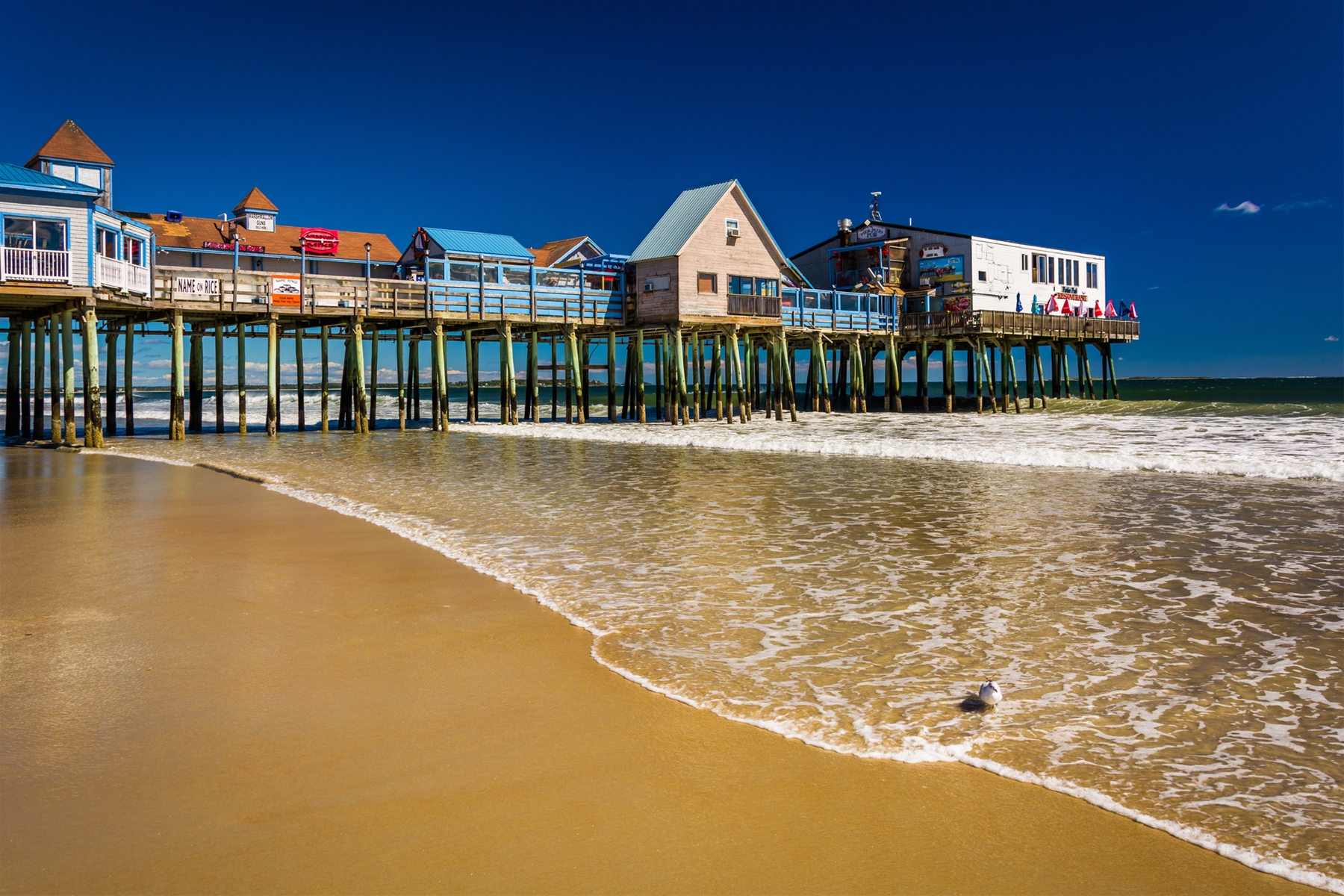 Located along Maine's southern shores beside the Atlantic Ocean and Saco Bay, Old Orchard Beach is the epitome of a traditional beach destination. Just 20 miles south of Portland. "OOB" is home to about 9,000 year-round residents surging to 75,000 in the warmer months.
Beachgoers from across the United States and beyond flock to the oceanfront in search of the ultimate summer family getaway at one of New England's best beaches. However, this charming beach resort town is ideal for a welcome respite during the sleepy off-season as well.
Shop And Stroll
Stroll with the fresh ocean breezes as you shop for unique coastal treasures. The small downtown area of Old Orchard Beach features specialty fashion boutiques and gift shops with locally-made keepsakes, delicious food, and home decor.
Visitors can easily make a day of their retail excursions by extending their journeys to the legendary outlet malls in Freeport or Kittery - both about 40 miles away. Top local eateries line OOB's Main Street and the beachfront, where pizza, lobster rolls, and fried clams are all the rage, so don't forget to plan a few tasty stops along the way.
A Sporting Good Time
An Old Orchard Beach vacation has plenty to offer in terms of sports and recreation, including indoor options for a rainy day! There are more than ten world-class golf courses within a half-hour's drive, like Dunegrass Golf Club spanning over 300 acres of wooded, back dunes in Old Orchard Beach.
Just a few miles away in Saco, visit Biddeford-Saco Country Club or Deep Brook Golf Course to keep the good times rolling on the green. For light-hearted family fun, take a swing at Pirate's Cove Adventure Golf with two 18-hole mini golf courses open from May to mid-October. Less than 15 minutes away in Scarborough, Maine Indoor Karting is a 42,000 square foot entertainment facility offering mini golf, an arcade, and indoor go-karting at speeds of up to 40 miles per hour.
Fishing And Boating
Find fun on the water in the gentle surf of the southern Maine coast. Local charter services offer rafting tours, lobster tours, kayaking excursions, and guided fishing trips. Expert guides are available to help sightseers and anglers of all ages and skill levels navigate the waterways like the Saco River, thriving with striped bass, bluefish, and mackerel or the Scarborough Marsh teeming with diverse shorebirds.
Sun, Sand, And Surf
The top draw to Old Orchard Beach is the expansive seven mile long sandy beach, with Old Orchard Beach Pier at its center. Guests will find the focus of public events, nightlife, and activities happening around the pier.
A more peaceful experience can be had with a little distance from the bustle of the boardwalk shops and attractions. The centerpiece for weekly fireworks displays in the summer, Old Orchard Pier extends out nearly 500 feet over the Atlantic Ocean.
Exhilarating Family Amusements
New England's only beachfront amusement park, Palace Playland is situated on four beachfront acres. Home to more than 25 attractions, including an old-fashioned carousel, ferris wheel, a classic arcade, and the Galaxi roller coaster, Palace Playland is open seasonally from Memorial Day to Labor Day.
Don't miss the famous OOB Pier Fries! Five miles away in Saco, keep the family fun going at Funtown Splashtown USA, where visitors find thrills on Maine's only wooden roller coaster, the Excalibur, as well as an array of waterpark rides, pools, games, and shops. Funtown Splashtown USA is open on weekends in May and September, and daily during the peak of summer.
Original Events And Festivals
Summertime is the best time for family-friendly community events and original OOB cultural festivals like Back to the Beach Corvette Weekend, Beerfest on the Pier. Beach Olympics, and the Old Orchard Beach Car Show along the main drag.
Enjoy concert performances at the Ocean Park Music Festival, held most weekends throughout the summer months. Christmas Celebration by the Sea ushers the holiday season to this little New England hamlet with a tree lighting ceremony, horse-drawn carriage rides, live entertainment, food, and appearances from Santa and Mrs. Claus. The traditional New Year's Day Lobster Dip brings the holiday season to a close with hundreds of participants braving icy Atlantic waters in benefit of the Special Olympics of Maine.
Making Your Grand Arrival
When visiting Old Orchard Beach on a day trip, consider taking a ride on the Amtrak Downeaster. This nostalgic train ride offers five round-trips daily between Boston and Portland, Maine, with various stops along the way. The Old Orchard Beach railroad station is just steps from the beach, providing easy access to the heart of the town.