Spending a Day (Or More) in Boothbay Harbor
The seaside village of Boothbay Harbor is a treasure that epitomizes the appeal of Midcoast Maine. Just an hour north of Portland, Boothbay Harbor is a prime New England boating and yachting center, occupying just under ten miles on a peninsula in the Gulf of Maine.
Its shores are lined with evergreen forests and rocky outcroppings, while the charming downtown area is home to an array of local art galleries, boutiques and eateries. Across the span, you'll discover numerous historic sites and points of interest that share the culture and community of one of the most desirable destinations on the Maine coast.
Arts And Culture
Maine's Midcoast is steeped in history and natural beauty, and Boothbay Harbor pays homage to the inspirations of both with longstanding cultural contributions like the Carousel Music Theater and The Opera House at Boothbay Harbor. Enjoy dinner and a show in a classic, old theater barn at the Carousel Music Theater.
A summertime tradition, this venue hosts a variety of music and theatrical performances and community events all season long. The historic 1894 Opera House in Boothbay Harbor is as beautiful as it is significant. Hosting more than 100 diverse events each year, the performance hall has welcomed orchestras, Grammy-winning musicians and Broadway stars, comedians, sporting events, operas, and movie screenings, as well as holiday gatherings and community events.
Just an hour away in Rockport, the nationally-acclaimed Farnsworth Museum offers more than 15,000 pieces of original art from the 18th-century to the present on display across 20,000 square feet of space.
The museum hosts four permanent collections as well as several rotating exhibits including paintings, prints, photography, sculpture, and more, assuring new works regularly. Two historic homesteads and a library complete the museum campus. The Farnsworth is open year-round as the only center dedicated entirely to American and Maine-inspired art.
The Boothbay Region Art Foundation supports the arts in Boothbay through community programs, classes, and special events all year-round. Members include emerging artists as well as nationally and internationally recognized artists.
The BRAF Gallery at Townsend Avenue displays fine art in an assortment of mediums for purchase. Other top art galleries in the area include Joy to the Wind Gallery on Atlantic Avenue, Studio 53 and Gleason Fine Art (both on Townsend), and Ocean Point Studio in East Boothbay.
Ecology And Coastal

Photo Credit: JR P via Flickr CC2.0
The location of Boothbay Harbor make it an obvious locale for coastal and maritime experiences. Gain a new sense of appreciation for the Maine coast and our unique ecology when you visit locations like Coastal Maine Botanical Gardens, Maine State Aquarium, The Bigelow Laboratory for Ocean Sciences, and the Maine Maritime Museum.
When fun and learning combine, edutainment is the brilliant result, and these valuable institutions provide knowledge in engaging ways that are sure to capture the interest and passion of every guest.
Within ten minutes' drive of downtown Boothbay Harbor, guests can explore the lush landscapes of Coastal Maine Botanical Gardens and the underwater worlds of the Maine State Aquarium.
Opened in 2007, Coastal Maine Botanical Gardens is one of the state's top attractions and the largest botanical garden in New England, comprising 295 acres, including tidal shorefront. The gardens are also the site of the annual Gardens Aglow event - The biggest and brightest light display in Maine! Beyond the gardens, visitors are invited to enjoy a boat tour or kayak excursion on the Back River. The gardens are open seasonally from April to October, reopening briefly for the Gardens Aglow event in November.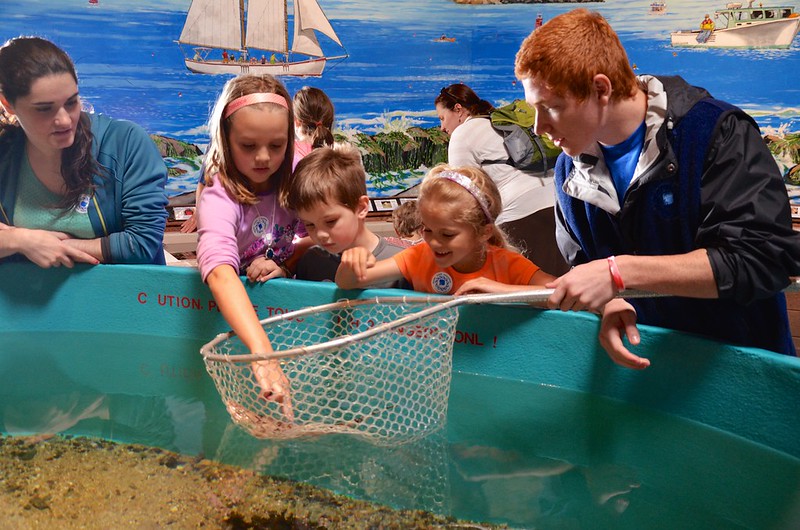 Photo Credit: Joe Shlabotnik via Flickr CC2.0
The Maine State Aquarium is also open seasonally. Located on the shores of West Boothbay Harbor, the Aquarium is operated by the Maine Department of Marine Resources, serving as home to a wide range of marine life.
Exhibits include the lobster den, Downeast tank, sport fish, and a 20' tide pool touch tank. The venue's Discovery Center regularly hosts interactive programs and educational presentations for all ages. The aquarium is also a great sight for a picnic with scenic views of the harbor.
The Bigelow Laboratory for Ocean Sciences in East Boothbay began in 1974 as a private, non-profit research institution. named for Dr. Henry Bryant Bigelow, whose work is said to have led to the beginnings of modern oceanography.
The first LEED Platinum certified laboratory in Maine. the facility promotes responsible ecology and green living in every way. The lab's primary focus is on understanding "the interactions between ocean ecosystems, global processes, and the environment" through research and community programs. Learn more about research at the Bigelow Laboratory by attending Café Scientifiqué lectures and other special events during your next Boothbay Harbor vacation.
About an hour away in Bath, the Maine Maritime Museum is a worthwhile extension of your quest for coastal discovery! The "city of ships" is a logical place to find this waterfront facility hosting exhibits on the state's seafaring heritage and culture.
Located along 20 acres of the Kennebec River, the museum includes indoor galleries, the country's only surviving historic wooden shipyard, a working boat shop, a newly restored 1906 schooner, and more!
Historical Sites
During the early to mid-1600s, English fishermen and farmers settled the Boothbay Harbor region, developing shipbuilding and fishing as the primary industries in the area.
Today's Boothbay Harbor is not entirely unlike the early days of the coastal village, thriving in the shipyards, fishing, and tourism that have propelled the town forward. The Boothbay Region Historical Society was founded in 1967 to preserve local heritage through exhibits, and historical programs throughout the year.
Located at the 1874 home of Elizabeth F. Reed and its grounds, Fullerton Park, the society offers six rooms of artifacts, photographs, maps, and memorabilia to explore. Admission is free!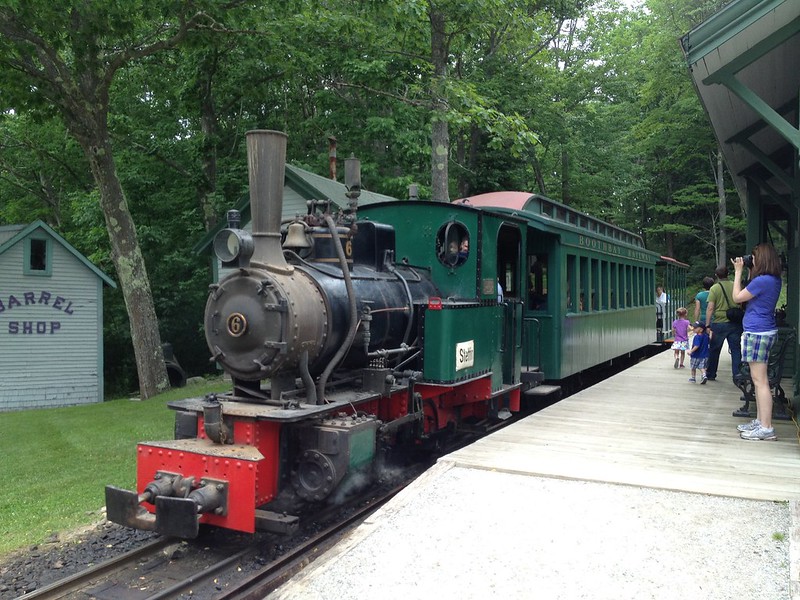 Photo Credit: Mel-and-Jym via Flickr CC2.0
Boothbay Railway Village is a living museum, hosting exhibits including model railroads, historical structures from the mid-19th through the mid-20th centuries, and a collection of 60 vintage automobiles, all within a thoughtfully recreated historic rural Maine village.
Railway Village is the only place in New England where you can ride an authentic antique steam locomotive! Throughout the season, traditional artisans stop in to offer demonstrations and workshops.
For a quick stop while roaming the downtown area, check out the Boothbay Harbor Footbridge. Built at the turn of the 20th century to connect one side of the harbor to the other, this 1,000-foot long wooden pedestrian bridge is the longest of its kind in the United States. Over the years, the bridge and bridge house have served as a residence, fish market, gift shop, and art studio, among other things.
Boat Tours

Photo Credit: Kent G Becker via Flickr CC2.0
One of the most popular ways to experience the Boothbay Harbor region is naturally on the water! Whether you're looking to marvel at the landscapes, enjoy wildlife and whale watching, or challenge yourself with recreational adventures, Boothbay Harbor has the location and services to make your outdoors getaway complete!
Sailboat harbor tours and scenic cruises offer brilliant views of the coastline, and opportunities to catch sight of native and migratory whales, puffins, porpoises, and seals. Some tours even provide stops at lighthouses or island day trips. Get hands on with a fishing charter or a lobster boat to get your sea legs as the locals do. To really bond with nature, rent a kayak and navigate your own vessel through the waters of inner Boothbay Harbor.
There is no shortage of options to get out on the water in Boothbay Harbor! Kick back and enjoy a two-hour voyage including sights of active fishermen and lobstermen, lighthouses, wildlife, and surrounding islands aboard the 65' Eastwind - Boothbay Harbor's largest schooner, or the 48' Lazy Jack - the area's oldest windjammer.
Cap'n Fish's Cruises offers scenic tours brimming with local insight on the lobster industry and coastal inhabitants, with trips to whale feeding grounds and the puffin colony on Eastern Egg Rock.
An excursion with Sweet Action Charters is a sure-fire way to find the big catch, for amateur and pro anglers alike! With more than 35 years of experience in the region, Captain Wolotsky knows all the prime spots for catching mackerel and bass in Hockomock Bay, the Sasanoa River, the Back River, and the Kennebec River.
Looking for the quintessential Midcoast Maine experience? Board the Bennie Alice at Pier 6 in Boothbay Harbor for a narrated scenic cruise into the islands of Linkein Bay, arriving at the Cabbage Island Clambake. A traditional Downeast experience, the clambake includes fresh seafood favorites and family-friendly island activities.
The Boothbay region of Maine is one of the best destinations in the state for sea kayaking, offering waters from challenging open seas to calm, shielded rivers amidst islands and coves. Knowledgeable registered Maine guides lead kayak expeditions with Tidal Transit.
Providing first-rate equipment rentals and invaluable local insight, Tidal Transit's options include tours through Boothbay Harbor to the Burnt Island Lighthouse, wildlife tours to Ram Island in the Sheepscot River, and sunset tours near Southport Island. Custom tours are available, and guests can opt to rent kayaks for their own self-led journeys as well!
Balmy Days Cruises offers a wide selection of tour options to experience the New England coast. Choose from sailing trips, harbor tours, fishing excursions, and island cruises. Two of their most popular options are the cruise to Burnt Island Lighthouse and the Monhegan Island excursion.
The Burnt Island Light, built in 1821, is the second oldest surviving lighthouse in Maine. Visitors are welcomed to the island by the lighthouse keeper, touring the home, lantern room living history museum, and the grounds of the 5-acre island. Visitors will spend 2-1/2 hours on shore at the island, with a scenic 15 minute boat ride each way.
The Monhegan Island day trip is a must! This tiny island fishing community, ten miles off the mainland, is just 3/4 mile wide and 1-1/2 miles long, with no paved roads, miles of walking trails, and views of the Atlantic Ocean from the highest cliffs in Maine. Monhegan Island is easily one of the most visually inspiring locations in the state.
The journey to the island is 1-1/2 hours each way, leaving about 3-3/4 hours to spend on the Island itself. Don't miss the Monhegan Island Light near the center of the island. This is the second highest light in Maine, and the site of the Monhegan Museum of Art & History.
Hiking Trails And Parks
Founded in 1980, the Boothbay Region Land Trust manages numerous preserves and nearly 30 miles of hiking trails through meadowlands, forests, wetlands, and coastline in the Boothbay region. BRLT hosts educational programs and guided tours throughout the year. Trails ranging from easy to challenging are open year-round for personal exploration, and are suitable for visitors of all ages. Many are located at community parks and nature preserves, serving as a point of general recreation for the whole family!
A few of our favorite Boothbay-area trails:
Damariscove Island Preserve - 210-acre island six miles offshore from Boothbay Harbor providing three miles of hiking trails along tidal pools, salt marshes, and rocky shores, open to the public during the summer. Ideal for birding and wildlife viewing.
Lobster Cove Meadow Preserve - 46.8-acre preserve, with freshwater wetlands and forests. Three miles of easy-moderate path rich with bird watching opportunities. Home to more than 140 different types of migratory and nesting birds.
Ovens Mouth Preserve - BRLT's most extensive trail system with over 5 miles of hiking trails overall, Ovens Mouth is comprised of two peninsular areas, the East and the West. Both sections are heavily wooded with some shoreline segments. The West is said to be the more challenging path. The trails connect via a 93-foot pedestrian bridge.
There are more than 35 state parks in Maine. Why not make a day trip out of it and spend a day the natural way? About 45 minutes away from Boothbay Harbor, Damariscotta Lake State Park occupies 19 acres at the northeast corner of Damariscotta Lake in Jefferson, Maine.
One of the state's most popular day-use parks, this site is home to a large freshwater lake with a sandy beach for canoeing, fishing, and swimming, as well as picnic tables and grills. Open from 9:00 AM to sunset daily from Memorial Day to Labor Day, but walk-up guests can visit year-round.
Other parks worth considering (all within an hour's drive) include Barrett Park across from Lewis Cove in Linekin Bay, the 770-acre Reid State Park on Georgetown Island, Popham Beach State Park between the Kennebec and Morse Rivers, Bristol's Pemaquid Beach Park, and its sister park in New Harbor - Pemaquid Point Lighthouse Park.
Golf
Looking for a round of classic Maine golf? Take a swing at Boothbay Harbor Country Club, with its captivating vistas, challenging 18-hole course, and refreshing sea breezes. The country club opened its first 9 holes in 1921, expanding to 18 in 1999.
The facility now includes a 5-star restaurant, sports bar, pro shop, locker rooms, and wellness center with a luxury pool, tennis courts and a state-of-the-art fitness center. Public access is allowed during the months of May, June, September and October.
Annual Events
Boothbay Harbor hosts assorted annual fairs and festivals that bring locals and visitors alike to congregate over New England culture, cuisine, and history with the people and places that shape the community. Festival season peaks at the summertime, kicking off with the Windjammer Days festival, a half-century tradition that welcomes summer residents to the village each year.
Sink your teeth into the Damariscotta Oyster Celebration in June or October's Damariscotta Pumpkinfest and Regatta. Boothbay Harbor Fest is a 3-day waterfront "adventure for your senses", including food tastings, craft cocktails, live music, a 5K run, fashion show, and a number of local arts and crafts vendors.
The autumn season is ushered in by the Columbus Day Weekend Fall Foliage Festival, while the winter holidays come to life at Gardens Aglow and the Harbor Lights Festival. Whenever you visit, you're sure to have the chance to enjoy our unique culture and traditions in a memorable way!
Shopping In Boothbay Harbor
The Commercial Street district of downtown Boothbay Harbor is bustling with locally-owned shops whose significance run far deeper than the merchandise on the shelves. Rekindle the memories of your coastal New England getaway long after you return home when you grab maritime mementos from Sweet Bay or Seawicks Candle Company.
Less than a half hour away, visit the Wiscasset Antiques Mall, where more than 100 dealers display nostalgic treasures of every sort over 13,000 square feet of space.
Pay a visit to Sherman's Maine Coast Book Shop, the oldest bookshop in Maine, with additional locations in Camden, Freeport, Bar Harbour, Portland, and Damariscotta.
Satisfy your sweet tooth at Orne's Candy Store, a Boothbay Harbor staple since 1885, and host of the annual Rock Skipping Contest - or pacify your urge for just about anything at Gimbel & Sons Country Store. If they don't have it, chances are you don't need it!
Dining In Boothbay Harbor
88 Restaurant - 88 Grandview Ave, Boothbay Harbor, ME 04538
Seafood
Oceanfront dining at Spruce Point Inn featuring creative and relaxed cuisine and dramatic sunsets.
Boathouse Bistro - 12 By-Way, Boothbay Harbor, ME 04538
Seafood, Tapas
Spanish tapas, traditional New England seafood, and wine, with rooftop harbor views in the downtown area.
Bogie's - 88 Grandview Ave, Boothbay Harbor, ME 04538
New American
A classic New England tavern with regional specialties, the freshest local seafood, and traditional pub favorites.
Boothbay Lobster Wharf - 97 Atlantic Ave, Boothbay Harbor, ME 04538
Seafood
Rustic lobster shack serving up lobster rolls and fried seafood favorites as well as live lobsters to-go from the dock.
Brady's Restaurant - 25 Union St, Boothbay Harbor, ME 04538
American
Boothbay Harbor's only year-round waterfront eatery, serving traditional American cuisine in a family atmosphere.
Bridge Street Cafe - 4 Bridge St, Boothbay Harbor, ME 04538
Breakfast
Casual cafe featuring all-day breakfast, baked goods, sandwiches, chowders, and sweet treats.
China By The Sea - 96 Townsend Ave, Boothbay Harbor, ME 04538
Chinese
The most authentic and elegant Chinese Cuisine experience in the heart of Boothbay Harbor since 1980.
Coastal Prime - 35 Atlantic Ave, Boothbay Harbor, ME 04538
Seafood
Fine dining restaurant offering locally-sourced fresh seafood daily inside or on a spacious seaside deck.
The Deck at Spruce Point Inn - 88 Grandview Ave, Boothbay Harbor, ME 04538
Seafood
Oceanfront restaurant with fresh local seafood and regional specialties alongside breathtaking harbor views.
Deck Bar & Grill at Linekin Bay Resort - 92 Wall Point Rd, Boothbay Harbor, ME 04538
Seafood
Providing a focus on tradition with creative, healthy and locally-sourced Maine dishes served overlooking the bay.
Downeast Candies - 2-14 By-Way, Boothbay Harbor, ME 04538
Desserts
Making homemade taffy and fudge since 1974 from Memorial Day to Columbus Day.
Dunton's Doghouse - 40 Sea St, Boothbay Harbor, ME 04538
Hot Dogs
An unassuming Boothbay tradition for fast casual guilty pleasures, including hot dogs, burgers, and lobster rolls.
Farm 23 - 102 Ocean Point Rd, Boothbay Harbor, ME 04538
Bakery
Full service bakery offering custom, hand-crafted cakes, wedding cakes, pastries, breads, pies, and baked treats.
Fisherman's Wharf Inn Restaurant - 22 Commercial St, Boothbay Harbor, ME 04538
Seafood
Reinvented, upscale coastal cuisine using the freshest possible local ingredients. Award-winning lobster chef and waterfront dining!
Footbridge Brewery - 25 Granary Way, Boothbay Harbor, ME 04538
Brewery
Grab some grub from a local eatery and join your crew at this small batch brewery.
Kaler's Crab and Lobster House - 48 Commercial St, Boothbay Harbor, ME 04538
Seafood
Popular rustic spot with nautical theming for fresh lobster and seafood dishes by the harbor.
Mama D's Cafe Mercantile - 50 Union St, Boothbay Harbor, ME 04538
Cafe
Classic American breakfast and lunch menus served up with gourmet coffee in a warm and friendly atmosphere.
McSeagull's Restaurant - 14 Wharf St, Boothbay Harbor, ME 04538
Seafood
Longstanding casual spot for classic seafood, steaks, and pub fare, featuring a large deck with harbor views.
Mine Oyster - 16 Wharf St #1, Boothbay Harbor, ME 04538
Seafood, Raw Bar
No-frills seafood spot and raw bar and hangout with water views and live entertainment.
Oak Street Cafe - 12 Oak St, Boothbay Harbor, ME 04538
Cafe
Year-round neighborhood cafe offering organic, seasonally-inspired menus.
Ocean Point Inn - 191 Shore Rd, East Boothbay, ME 04544
Seafood
One of the Boothbay area's finest restaurants featuring exceptional American and continental cuisine and an extensive wine list with stunning sunsets and breathtaking ocean views.
Pier 1 Pizza - 15 Wharf St, Boothbay Harbor, ME 04538
Pizza
Casual pizzeria offering traditional pies, fried snacks, and sandwiches in a casual pub with happy hour specials.
Ports Of Italy - 47 Commercial St, Boothbay Harbor, ME 04538
Italian
Upscale Italian eatery with a large porch serving traditional old-world cuisine, including housemade pasta and wine.
Red Cup Coffeehouse - 29 Commercial St, Boothbay Harbor, ME 04538
Coffeehouse
Downtown Boothbay Harbor gathering spot for free trade coffee, fresh baked goods, delicious food and local culture.
Shannon's Unshelled - Granary Way, Boothbay Harbor, ME 04538
Seafood
Seasonal harborside seafood shack providing fresh lobster rolls and salads with picnic table seating.
Taka Mediterranean Bar & Grill - 16b Wharf St, Boothbay Harbor, ME 04538
Mediterranean
A tantalizing blend of modern and traditional Mediterranean cuisine served in a warm and relaxed space.
Wannawaf - 31 Granary Way, Boothbay Harbor, ME 04538
Desserts, Breakfast
Open Memorial Weekend to Labor Day, this sugar shack offers hot Belgian waffles topped with Maine ice cream, fresh fruits and homemade sauces.