River Tubing in Maine: The Most Fun You Can Have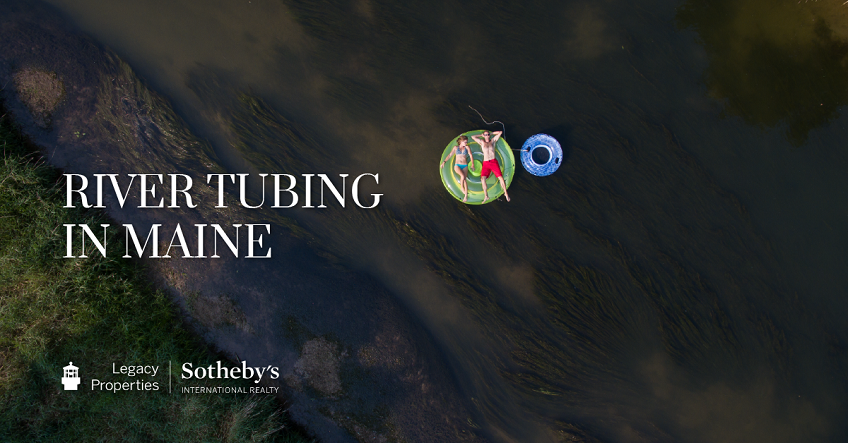 Southern Maine is a natural paradise - alive with mountains, forests, streams, sandy beaches, and seascapes offering unparalleled outdoor recreation against a spellbinding backdrop all year-round. While winters may bring a focus to the slopes and snow, the warmer months are all about the waterways.
Kayaking, windsurfing, standup paddle boarding, and whitewater rafting are all popular pastimes for Southern Maine adventure seekers, but not every visitor is in search of a thrill. Sometimes vacation means doing as little as possible - taking in the sights without a care in the world.
River tubing is a great way to get out there and enjoy the water, sunshine, and breathtaking Maine views. After all, nothing says R&R like floating along a lazy river in the heart of New England!
Finding The Best Location
Stroudwater River - Portland
The Stroudwater River is just over 15 miles long, flowing through Buxton, Gorham, Westbrook, and Portland where in empties into the Fore River at Stroudwater falls. Several smaller streams flow into the river, including Deering Brook, Gully Brook, Fogg Brook, and Silver Brook. This slow-flowing river is home to a large population of river turtles you may find basking at the shoreline or even swimming alongside you.
The Stroudwater River put-in point is about 15-20 minutes from the center of town at the Portland Trails parking lot off Blueberry Road. Enter the water at the trailhead and enjoy the 1.5 mile float toward the Tate House Museum. Use the take out point at the River's Edge Drive trailhead, but be advised that this area is not well marked from the water. Familiarize yourself with the trail path and exit point before you embark on your float trip. Beyond the Tate House, the dam area is better left to kayak trips.
Land excursion: Visit the Fore River Sanctuary, an 85-acre nature preserve and sanctuary with walking paths and wooden bridges throughout some of the most diverse habitats in Greater Portland. Home of Jewell Falls, Portland's only natural waterfall, the Fore River Sanctuary is located near the confluence of the Stroudwater and Fore rivers.
Book a Portland rental to stay near Stroudwater River.
Presumpscot River - Portland
The Presumpcot River flows 25 miles between Sebago Lake and Casco Bay, serving as the main outlet of Sebago Lake. The river flows through the communities of Standish, Windham, Gorham, Westbrook, and Portland, before emptying into Casco Bay at Falmouth. The Presumpscot is a gentle-flowing river, providing a popular recreational area for paddling, swimming, fishing, and shoreline hiking.
Begin your Presumpscot River float from Hannaford in Portland's Riverside neighborhood. For a short trek, use the take out point at the Sebago to the Sea trailhead on Blackstrap Road. If you want to extend your journey, keep going to the next trailhead near Overset Road. Tubing past this point is not advisable as you will soon reach Presumpscot Falls.
Land excursion: Visit the Presumpscot River Nature Preserve, a 48-acre sanctuary offering a wooded hiking trail network and spectacular views. The Preserve encompasses Oat Nuts Park with sections in Portland and Falmouth.
Book a Portland rental to stay near Presumpscot River.
Ogunquit River - Ogunquit
The Ogunquit River is nearly ten miles long. This tidal river flows to the Atlantic Ocean at the town of Ogunquit halfway between high tide and low tide, creating a fun, swift current that will take you around the bend to the Ogunquit Beach in short order, leaving you ready to jump out and do it all again with a youthful squeal. The influence of the Atlantic Ocean tides creates a space that is just as ideal for surfing, boogie boarding as it is for kayaking, snorkeling, and paddleboarding - alongside three miles of uninterrupted clean, soft sand. This is the perfect choice for families in search of an array of activities for everyone.
The Main Beach at Ogunquit is located at the mouth of the river, making the water on this side significantly warmer than the ocean side. This beach tends to be popular with families and those using inner tubes and SUPs. All public facilities and launch points are easily reached from the Main Beach Parking Lot.
Land excursion: If you choose to take a break from the beach, consider a stroll across the Marginal Way to explore Perkins Cove, a charming fishing village with seaside shops, restaurants, and ocean views.
Book a rental in Kennebunk or Kennebunkport to stay near the Ogunquit River.
Royal River - Yarmouth
The Royal River is a lengthy waterway with more than 100 miles of tributaries running through it. Originating at Sabbathday Lake in New Gloucester, this exceptionally lazy river flows into Auburn and then southerly through New Gloucester, Gray, and North Yarmouth into Casco Bay, passing through farms and forests along the way. The Royal River Water Trail offers opportunities for paddling, swimming, birding, fishing, hunting, picnicking, and shoreline hiking.
Head to Route 9 near Old Town House Park to put in. Travel about 5 miles to the town boat launch near East Elm Street. Along your river trip, keep an eye out for recreational rope swings, beautiful riverfront homes, and wildlife like blue herons. Considering the slow flow of the river, some suggest including a kayak or two in your fleet to tow the tubers a bit more briskly, but of course, a slow float may be just what you're looking for!
Land excursion: From East Elm Street, visit Royal River Park to enjoy paved walking paths and waterfall views. Or head over to explore the largest park in Yarmouth, Pratts Brook Park, with six miles of trails through meadows and forests with fabulous wildlife viewing opportunities.
Book a rental in Yarmouth, Portland, Freeport, or Falmouth to stay near the Royal River.
Saco River - Fryeburg

The Saco River rises at Saco Lake in the White Mountains of New Hampshire before crossing into Maine at Fryeburg. Here, the river branches into the "Old Course" Saco River and the Canal River. The old course is the longer stretch, but the Canal River is considered to be the official course for the Saco River route. The two channels reunite near Lovell. The Saco flows mostly southeast for about 125 miles, emptying at the Atlantic Ocean below Biddeford and Saco. There are many sandy beaches along the Saco, where canoeing and sport fishing rank among the most popular activities.
Put in at Swans Falls and exit at the Canal Bridge. This is about a four-hour trip. Most of the route remains in direct sunlight throughout shallow, slow waters, providing a bright, warm float trip for the whole family. Numerous sand bars and stores provide stopping points along the way for breaks and necessities.
Land excursion: Saco, Maine is a great place to extend your day of discovery after a float down the river. Visit Ferry Beach State Park for natural fun set around hiking trails and scenic beaches, or head over to Funtown Splashtown USA - Northern New England's largest water and amusement park.
Book a rental in Sebago or Lovell to stay near the Saco River.
Crooked River - Waterford
The Crooked River is a 58-mile-long tributary of the Songo River and the longest of the Sebago Lake tributaries. It empties into the Presumpscot River, flowing to Casco Bay and the Atlantic Ocean. The river rises near the eastern end of the White Mountain National Forest, flowing southeast through Waterford, Norway, Otisfield, Harrison, Naples, and Casco.
The Crooked River winds back and forth away from the Songo Locks and up to Route 302. Put in near Melby's Market and Eatery in Waterford and make your way downriver for your choice of a long or short float. This is an ideal "no frills", back to nature excursion, so feel free to make a full day of it!
Book a rental in Sebago or Lovell to stay near the Crooked River.
Go The Extra Mile - Tubing Day Trip
Androscoggin River - Bethel
Within a 90-minute - two-hour drive from most of our luxury vacation rentals.
The Androscoggin River runs 178 miles through Maine and New Hampshire, joining the Kennebec River at Merrymeeting Bay in Maine before emptying into the Gulf of Maine at the Atlantic Ocean. The river passes the towns of Bethel, Rumford, and Dixfield before turning south through Lewiston, Auburn, Lisbon Falls, and Brunswick. The Androscoggin River is a popular fishing destination for anglers and paddlers.
Local Outfitters And Guide Services
Saco Bound - (603) 447-2177
Offering 3 or 4-hour guided Saco River tubing trips since 1972 as well as tubing rentals. Departing from Center Conway and North Conway. All trips include shuttle service. Options include floating cooler, storage float and dry bags.
Bethel Outdoor Adventure - (207) 824-4224
Offering 2.5-hour tours of the Androscoggin River and river tube rentals. All tubing trips include PFD and shuttle service.
What To Take Along On Your River Tubing Trip:
Bug Spray
Sunscreen
Sunglasses / Hat
Personal Floatation Device (PFD)
Beverages / Snacks
Waterproof Camera