Know Before You Go: Portland, Maine Facts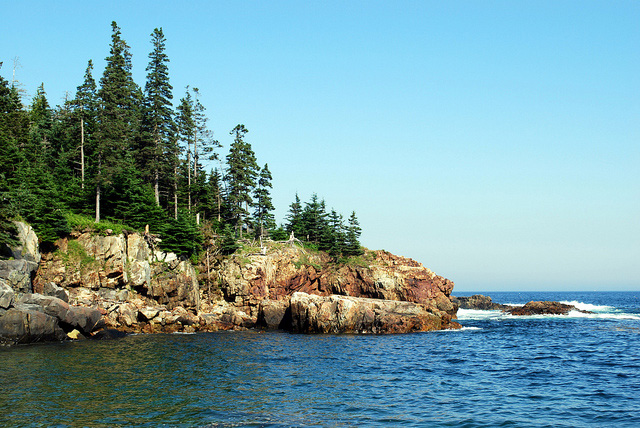 Photo Credit: John Schinker via Flickr CC2.0

Though Maine is officially known as The Pine Tree State, it has proudly earned the unofficial nickname of "Vacationland". A favorite destination among travelers of all types, Maine offers up a world of both man-made innovation and natural wonder to explore all year round.
The only U.S. state to share borders with only one other state, Maine boasts a population of more than 1.3 million. At nearly 67,000 residents, Maine's largest city holds claim to about one-quarter of the state's population.
That city is Portland.
Situated on Maine's southern coast along Casco Bay, Portland is recognized as the center of economy, tourism, and growth in the region. The city has a rich history in industry, fishing, agriculture, and Americana - and you probably don't know the half of it!
Maine is home to more than 60 lighthouses, six of which are within a 20-minute drive of Portland. This includes the Portland Head Light, which is one of the most photographed lighthouses in the country.
Average summer temperatures in Maine hover around 70°F while average winter temperatures linger around 20°F. Portland enjoys an average of 5°F-10°F warm up over these averages - ideal for popular recreation activities!
Maine has more than 3,100 off-shore islands, including the famous Casco Bay Islands off Portland. Some of the more popular islands in this chain include Peaks Island, Long Island, Little and Great Diamond, Little and Great Chebeague, and Cliff Island.
Third to only Florida and Louisiana, Maine has 3,478 miles of coastline (more than 5,000 miles when considering island shores). The Maine Beaches region in southern Maine is home to 30 miles of stunning white sand beaches extending from Kittery to Old Orchard Beach.
The State of Maine has over 32,000 miles of rivers and streams, including many in the Portland area. Favorite spots for watersports, hiking, and more include the Fore, Saco, Piscataqua, and Kennebec Rivers. The Presumpscot River in Falmouth is the main outlet of Sebago Lake.
Speaking of Sebago Lake, among the more than 6,000 lakes and ponds in the state, this Southern Maine gem is the state's second-largest! Featuring more than 100 miles of shoreline, Sebago Lake is a popular spot for sailing, swimming, camping, and fishing.
Maine contains more than 500,000 acres of State and National Parks. Acadia National Park outside of Bar Harbour is one of the most visited National Parks in the U.S., while more than a dozen State Parks can be found in southern region of Maine.
Portland was originally tapped to be the state capital of Maine until 1832, when the capital was moved to Augusta.
South Portland is home to the famous Maine Mall. This is the largest shopping mall in the state of Maine, and the second largest in northern New England, second only to The Mall at Rockingham Park in New Hampshire.
Visitors seeking the quirky side of Maine love Portland's International Cryptozoology Museum. Here, guests can see stuffed jackalopes, yeti footprint casts, a fully-furred Bigfoot model, and more, gathered by one of the world's leading Sasquatch experts!
Maine's prominence as a craft beer and wine destination continues to grow. Portland lays claim to 17 microbreweries—the most per capita of any city in the nation, according to the Brewers Association. Allagash Brewing Company in Portland produces 45,000 barrels of beer each year.
America's first "all-display fresh seafood auction" has been doing business in Portland since 1986. At The Portland Fish Exchange, fishermen present their freshest catches to seafood wholesalers and processors daily.
Portland is the closest U.S. transatlantic port to Europe, and the 20th-largest fishing port in the nation.
Maine provides nearly 90% of the nation's lobster supply - roughly 40 million pounds annually.
Maine's State Berry is the blueberry, and with good reason! Maine is the single largest producer of blueberries in the country - over 90% of the nation's blueberry crop, in fact! The town of Cherryfield is known as the blueberry capital of the world, but you can find thriving pick-your-own farms in Portland, Freeport, Yarmouth, Westbrook, Cape Elizabeth, Biddeford, Kennebunk, Kittery, Ogunquit, Old Orchard Beach, Saco, Wells, and York.
Maine's storied history in shipbuilding and boating is still alive today. The first ship built by English colonists in the Americas was launched on the Kennebec River in 1607. Today, Maine is home to many of the best boat builders in the world, while Portland plays host to the annual Maine Boatbuilders Show.
Freeport is home to the L.L. Bean Company, and its flagship store. Founded in 1912, L.L. Bean was the first clothing retailer to open 24/7/365. Millions of guests visit this Maine landmark each year.
Portland is the birthplace of poet Henry Wadsworth Longfellow, author Stephen King, actor Judd Nelson, and five-time Olympic medalist Ian Crocker (who also became the first man ever to swim the 100-meter butterfly in under 51 seconds, in 2003).
Former President George H. W. Bush and Former First Lady Barbara Bush summer at Walkers Point in Kennebunkport.
Now that you know a bit more about the area, you should feel more prepared to visit with confidence. Of course, we highly suggest that you educate yourself on other topics of vital importance before your stay, like finding the best lobster rolls or the most popular hiking trails. We're always happy to provide some local insight if you need recommendations or tips as well. You never know what amazing discoveries may be hidden in plain view!