Complete Guide To Hiking in Southern Maine: Trails & Locations
Southern Maine is an ideal destination to escape into the mountain wilderness for an invigorating day (or more) of recreation, wildlife, nature, and breathtaking views. Some of the most rewarding hikes in the New England area can be found within reasonable driving distance of Portland, and other popular locations along Maine's southern coastal region.
Visitors of all ages and abilities can find suitable hiking trails of varying lengths offering anything from flat, leisurely strolls to challenging climbs.

Please note: Operating hours and accessibility of hiking trails may be affected by the current COVID-19 pandemic. Please check individual trails below for current status notes as available. We strongly suggest a final check on status just before heading out to explore your chosen trail(s).

April 6, 2020 - In response to public health guidance related to COVID-19, ten Midcoast and Southern Maine coastal State Parks and beaches are closed until April 30, 2020. BPL will continue to monitor the need for park closures and curtailed services and will reopen when it is safe to do so. Park closures include Reid State Park, Popham Beach State Park, Fort Popham, Fort Baldwin, Kettle Cove State Park, Two Lights State Park, Crescent Beach State Park, Scarborough Beach State Park, Ferry Beach State Park, and Mackworth Island. All other State Parks are open, with existing COVID-19 precautions in place

April 28, 2020: Following the Governor's April 28 Executive Order, currently open State Parks and Maine Public Lands remain open for day-use. State Park campgrounds are closed and have a target opening date of June 1 with June camping restricted to Maine residents and out of state visitors who have completed a 14 day quarantine.
Bradbury Mountain State Park

Photo Credit: billandkent via Flickr CC2.0
One of the nearest hikes to the Portland area, Bradbury Mountain State Park is just about a half-hour drive away in the Town of Pownal. The 800-acre park is one of Maine's original five state parks, acquired by the federal government in 1939.
There are miles of diverse trails around the mountain, but the most popular is the Summit Trail. This short but sweet 0.3 mile steep hike leads you straight to the 500-ft mountain summit where surprisingly vast 360-degree views await. The Northern Loop Trail is an alternate path, providing a wider, longer, more gradual trek to the summit with plenty to see along the way.
All Bradbury Mountain trails are accessible to hikers, dogs, horseback riders, and mountain bikers. This is also a fabulous site for cross-country skiing and snowshoeing in the winter months. Bradbury Mountain is open year-round, from 9:00 AM till sunset.
Eastern Promenade

Photo Credit: Doug Kerr via Flickr CC2.0
The Eastern Promenade in Portland is a public recreational area with a lot to offer! Home to East End Beach, sports facilities (baseball, basketball, tennis), and a paved 2.1-mile waterfront trail, Eastern Promenade is a not-so-hidden gem in Maine's largest city.
Situated entirely alongside the shores of Casco Bay and Portland Harbor on an old rail corridor flanking Munjoy Hill, the generally flat trail is also popular with bicyclists and bird-watchers. Connect to unpaved trails on either end of the Eastern Promenade Trail to explore steeper slopes and extend your journey. Fort Allen Park and Casco Bay views await to the east, while the Loring Memorial and stunning Back Cove sunsets will greet you to the west.
The Back Cove area reveals an alternate return trail that parallels the Eastern Prom. The Mid-Slope Trail is a packed-dirt trail that loops back to East End Beach, where swimming, a boat launch for kayaks and canoes, and restroom facilities are available to the public. Dogs are allowed on the beach during the off season. Benches and picnic tables are located along the trail route and at East End Beach.
The Eastern Promenade Trail is the Portland branch of the East Coast Greenway trail project spanning from Calais, Maine, to Key West, Florida. The park is open daily from 6:30 AM to 10:00 PM.
Fore River Sanctuary
The 85-acre Fore River Sanctuary preserve is the home of Jewell Falls, Portland's only natural waterfall. The Sanctuary is also the site of the former Cumberland and Oxford Canal, and one of the most ecologically engaging trail networks in Southern Maine. At 5+ miles, the full trail system traverses lowland area, where salt and freshwater marshes meet, providing diverse wildlife habitats and prime opportunities for bird-watching.
The preserve also welcomes mountain biking, snowshoeing and cross country skiing. Access to Jewell Falls is available by following the flat-grade, half-mile canal towpath trail from the south, across wetlands and through the uphill loop to the highest point.
New trail networks connect to western pathways via the 22-acre wooded parcel beside the preserve. Leashed dogs are allowed in some areas of the sanctuary. Fore River Sanctuary is open from dawn to dusk, year-round.
Burnt Meadow Mountain
Burnt Meadow Mountain near Brownfield is one of the region's most popular mountain trails, and just an hour's drive from Portland. Here, you'll find majestic views accentuated by wildflowers and a vast open peak.
The most direct path to the summit is also the most aggressive. North Peak Trail is about 1.3 miles of steep climbs and rock scrambles. The Twin Brooks Trail offers a more gradual ascent on a 2-mile trek to the top. Branching from the Twin Brooks Trail, the Stone Mountain Trail is an optional climb adding 1.4 miles round trip.
Opting in to journeying the whole system provides a nearly 5-mile hike of shifting terrain and varying difficulty with consistently brilliant scenic rewards along the way. Mid-late summer visitors will marvel in the fields of wild blueberries dotting the trail and permeating the woodsy aromas. When winter takes hold of the area, decreased foliage reveals breathtaking views of New Hampshire's White Mountains.
Leashed dogs are welcome on the trail. The trailhead parking lot is near a public boat launch at Burnt Meadow Pond, where swimming is also allowed, and a great way to celebrate a successful day hike!
Status: Parking area and trails are open—for now. Restrooms, buildings, and Laudholm Beach are closed.
The Wells Reserve at Laudholm is a National Estuarine Research Reserve listed on the National Register of Historic Places. Aside from the well-maintained glimpse at New England history, Wells Reserve offers one of the most picturesque loop trails in the area, and one that is inviting to all types of hikers.
The easy 2-mile loop hike winds through and along sandy beaches, marsh lands, towering pines, fields, estuaries, and rivers - beginning at the historic Laudholm Farm with its yellow farmhouse, carriage houses, barns and outbuildings.
Connect to the Laudholm Beach Trail for a beach excursion along your journey. A return path leads to the Pilger Trail through shady forests into an open field and estuary overlook. Connection to the Muskie Trail through fields of milkweed and wildflowers will return you to the farm. Trail signage offers key historical points as well as flora and fauna identification along the way. Get an early start for the best wildlife opportunities.
Trails are open year-round for hiking, snowshoeing, and cross-country skiing.
Cape Elizabeth Walking Trails
Status: The Town of Cape Elizabeth is asking users of our trail system to practice good judgment and not walk or ride bicycles when conditions are wet and soft. Please give the trails a day or two to dry out before you use them. Fort Williams Park will reopen to pedestrians and cyclists beginning Monday, May 11, 2020.

Photo Credit: www.alltrails.com
A wealth of natural habitats and ecosystems make up Cape Elizabeth's 9,000 acres. Visitors can explore diverse trail systems through tidal saltwater marshes, old-growth forests, bold ocean ridges, sandy beaches, and open meadow conservation lands made accessible by the Cape Elizabeth Land Trust.
There are four popular trails in the Cape Elizabeth system. The 0.8-mile Dyer-Hutchinson trail through open scrub and densely forested woods is a favorite for mountain biking, wildlife spotting, and snowshoeing. At just a tenth of a mile longer, the Broad Cove/Two Lights Trail transitions from dense scrub to woodland while traveling alongside wetlands and up gentle inclines with one extended (6-ft) drop off. The Cross Hill trail network covers a mostly wooded, 2.3-mile path integrating both moderate and steep slopes, as well as wetland areas. Offering an inspiring natural tour of Cape Elizabeth, the 7.5-mile Cross Town trail passes through the Robinson Woods, Spurwink Marsh, and Gull Crest conservation lands and the shores of Great Pond.
All trails in the Cape Elizabeth Land Trust system are dog-friendly and open to the public daily from dawn to dusk.
Saco Heath Preserve

Photo Credit: billandkent via Flickr CC2.0
The Nature Conservancy protects the 1,200+ acre Saco Heath Preserve, where visitors will find a unique trail and boardwalk system through the pine and cedar forests and onto a beautiful raised bog, or heath.
The 1-mile, self-guided hike reveals vibrant mosses, laurels, rhodora, carnivorous pitcher plants, and cranberries filling the thriving peatland habitat. Springtime yields incredible, colorful blooms cascading across the heath.
Located about 30 minutes from Portland, Saco Heath Preserve was honored by Down East magazine as Maine's "Best Overlooked Gem". Open daily from sunrise to sunset.
Vaughan Woods Memorial State Park

Photo Credit: InAweofGod'sCreation via Flickr CC2.0
Vaughan Woods Memorial State Park occupies a scenic forested tract along the Salmon Falls River in South Berwick, just one hour from Portland. The park provides picnic facilities and a series of hiking trails through old-growth pine and hemlock. The park's looping trail system offers options for long or short hikes of your choosing.
From the main River Run Trail you can loop back via Porcupine Path, Windy Walk, Nubble Knoll, Warren Way or Old Gate paths. Or complete the entire outer loop via Bridle Path for a 3+ mile journey. Vaughan Woods is also a great place for horseback riding and picnics.
Plan time for a quick side trip to the historic Hamilton House adjacent to the park, with the best views of the river and surrounding areas. Vaughan Woods Memorial State Park is open daily from 6:00 AM - 8:00 PM.
Douglas Mountain
Douglas Mountain in Sebago boasts spectacular views of Sebago Lake and the Atlantic Ocean, as well as mountains near and far, including the White Mountains and Presidential Range of New Hampshire. Best views are found near the summit of the mountain at the top of the 16-foot stone tower.
The relatively flat Eagle Scout Trail leads from the parking lot on Spring Ledge Road, about 1-mile through the woods to the nature trail spanning under a mile to the summit. The shorter route takes Ledges Trail from Douglas Mountain Road about 0.3 miles to the top. The entire loop trail is just under 2 miles in length. The Douglas Mountain trails are accessible all year long.
Pleasant Mountain
Located on the border of Denmark and Bridgton, Pleasant Mountain is home to the Shawnee Peak Ski area, and one of the most awesome mountain summits you'll find on the New England coast.
Topping out at 2,006 feet, this is the tallest of the Southern Maine mountains. The summit of Pleasant Mountain can be reached from four access trails: Fire Warden's Trail, Bald Peak Trail, Ledges Trail, and Southwestern Trail. All trails are several miles long with fair elevation gain, but Bald Peak Trail is especially notable.
Bald Peak is a longer climb with a steep start and several small brooks to cross, joining the Fire Warden's Trail to the main summit where you'll find a decommissioned fire tower and expansive views of New Hampshire's White Mountains from the wide bald ledge. Loon Echo Land Trust protects and manages the Pleasant Mountain trail system.

Mount Agamenticus
Status: The Town of York has declared a Civil Emergency Order closing certain properties and facilities TO INCLUDE MOUNT AGAMENTICUS. This Emergency Order is effective at 12:00 o'clock noon on Friday, April 3rd and shall extend until 11:59 PM on April 30th, 2020, unless extended or sooner revoked. There will be No Parking and No Restroom Facilities. The access road to the summit will remain closed.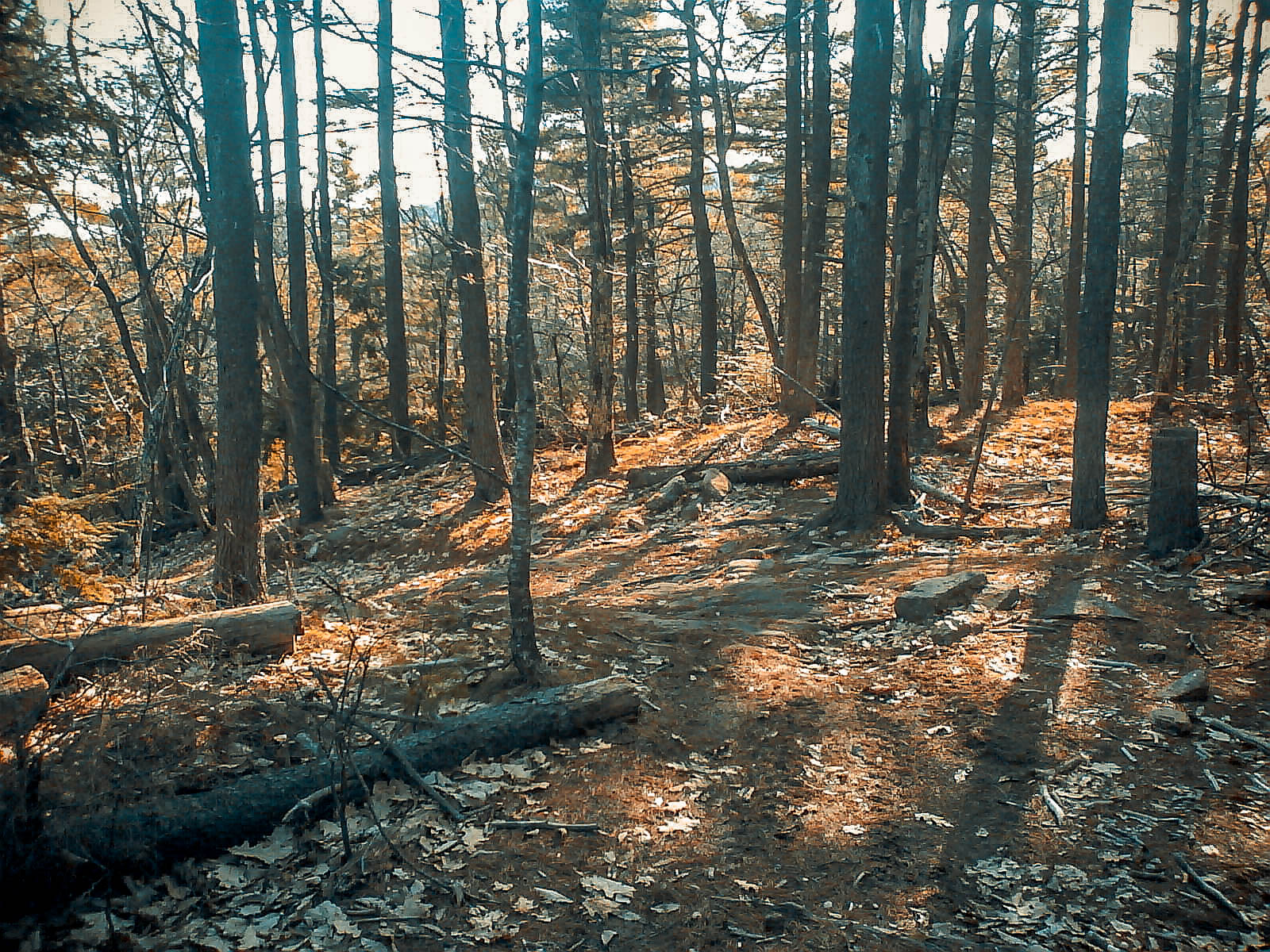 Photo Credit: Tom Ackerson via Flickr CC2.0
The Mount Agamenticus Conservation Region consists of more than 10,000 acres, with its peak at 691-feet above the coastal plains of southern York County, making it a longstanding, prominent landmark on the New England coast since the 1600s.
During WWII, the area even served as a radar observation post site due to its advantageous locale. There are two popular trails to consider on your Mount A journey: the Ring Trail Loop and the Blueberry Bluff Trail. The Ring Trail Loop connects with the Sweet Fern Trail to form the loop, which is a 1.5-mile trek to the grassy summit and panoramic views.
The aptly named Blueberry Bluff Trail is at its best in the summer when fresh blueberries color the landscapes along the 1.8-mile journey to the summit. At the summit, visitors can explore the old lodge and surroundings of the long defunct Big A Ski Area.
The unique coastal forests of Mount Agamenticus support the most diverse assortment of plant and animal species in all of Maine. The trails at Mount A are available for hiking, biking, and seasonal recreation like snowshoeing. Located less than an hour from Portland, the park is open year- round from dawn to dusk.
Wolfe's Neck Woods State Park

Photo Credit: daveynin via Flickr CC2.0
Wolfe's Neck Woods State Park is a five-minute drive from the center of Freeport. The park hosts various ecosystems, such as pine and hemlock forests, a salt marsh estuary, and the rocky shorelines of Casco Bay and the Harraseeket River.
The park's favorable, unique ecology has made it the designated summer home to migrating ospreys who nest on the Googins Island. Four popular trails offer pathways for unrivaled expeditions throughout the natural wonderland: White Pines Trail, Casco Bay Trail, Harraseeket Trail, and North Loop Trail. The entire network covers just over 4 miles of generally easy, accessible trailways.
The White Pines Trail is a half-mile, firm gravel path following the shoreline of Casco Bay, across several bridges with benches along the way, ending near the osprey nest on Googins Island, about 200 yards off the coastline. Casco Bay Trail leads visitors along a half-mile journey beside the Maine coast to a viewing point of the surrounding islands. The longest and most challenging of the Wolfe's Neck Woods trails (just under two miles), Harraseeket Trail offers beautiful views of Casco Bay and the Harraseeket River. The North Loop Trail is a peaceful, easy, half-mile walk including the fields of Wolfe Neck Farm and a salt marsh.
Enjoy a post-hike picnic or barbeque at the park's shelter areas, where more recreation and mountain fun await.
Fort McClary State Historic Site

Photo Credit: Doug Kerr via Flickr CC2.0
For nearly three centuries, Fort McClary has stood to protect the approaches to the Piscataqua River at the southern gateway to Kittery, Maine. Today, the Fort remains as one of the state's most significant historic sites, preserving military history and the evolution of military architecture and technology. The Blockhouse at Fort McClary was the last of its kind constructed in Maine, with expansion and fortification plans halted near the end of the Civil War when advancements in weapon technology made this structure obsolete.
The Fort was manned during five wars including; the Revolutionary War, War of 1812, Civil War, Spanish-American War, and World War I. Visitors are encouraged to explore the various buildings, perched high above the Piscataqua River for views of Portsmouth Harbor Light and Pepperell Cove. The brief hike of less than a mile leads through a wooded passage and the waters of Barters Creek to a picnic and playground area.
Regardless of the path you choose, you're sure to find a peaceful tranquility from the sights and sounds that await you on the hiking trails of Southern Maine. You don't have to be a seasoned pro to find a trail that will dazzle you and offer a natural experience that's bound to be a highlight of your visit, but if you are looking for a challenging hike, there are plenty of options to satisfy that urge as well. So, what are you waiting for? Pack up your supplies and get out there and blaze the trails!

Hiking Safety - Trail Tips
If you are exhibiting symptoms related to COVID-19, or if you have recently been exposed to COVID-19, please stay home.
In an effort to maintain social distancing of six feet, aim for lower crowds. Consider visiting a Wildlife Management Area, or less trafficked state park, public land, or local land trust.
If the trail you planned to visit has since closed, or if the parking lot seems too busy to avoid social contact, visit Maine Trail Finder to seek out a new trail. You should have a couple back-up trails in mind, just in case.
Plan your hike for off-peak periods in the day, like very early morning or late afternoon.
Avoid challenging trails at this time. It is safer to stick with easy, short trails to avoid the potential for accidents and injuries that may overwhelm health care resources.
Be advised that public facilities are widely unavailable at this time, and plan accordingly.
Continue to use bug repellant and sunscreen during outdoor excursions.
Wash hands often with soap and warm water for at least 20 seconds. If a sink isn't available, use a hand sanitizer that contains at least 60% alcohol.