Cruising the Coast of Kennebunkport Maine
Located less than 30 miles south of Portland, and just 12 miles north of Ogunquit, the seaside village of Kennebunkport, Maine has been a popular destination for families, celebrities, and dignitaries for well over a century. Scenic shorelines, rich maritime history, outdoor recreation, and coastal cuisine all play a role in the allure of the area, with no shortage of fun things to do all year-round.
It's no surprise that a village with such impressive lineage and prominence would also serve to be the summer home of one of the nation's most prominent families - the Bush family.
Museums And Historical Sites

Photo Credit: Sean O'Neill via Flickr CC2.0
Kennebunkport was first incorporated as Cape Porpoise, and resettled as Arundel before becoming the Town of Kennebunkport in 1820. From its early settlement days, the town has witnessed a magnificent history, well-documented in museums like the Brick Store Museum, Seashore Trolley Museum, and the First Families Museum, as well as notable historic sites.
The Kennebunkport Historical Society is a non-profit organization, established to preserve the history, art and culture of Kennebunkport.
The Kennebunkport Historical Society's White Columns property is a Victorian-era home with a variety of exhibits across seven rooms, including the First Families Museum, which showcases memorabilia and artifacts related to prominent Kennebunkport residents from sea captains to President Bush. The museum is open seasonally, from Memorial Day weekend through Columbus Day, reopening in December during Kennebunkport's Christmas Prelude event.
The Brick Store Museum in neighboring Kennebunk offers 60-90 minute, seasonal walking tours of the downtown Historic District and Kennebunk Beach from July through October. The museum itself is open year-round, showcasing local history, art, and culture through exhibits, events, and educational programs. Six galleries house rotating themed exhibitions inside four historic buildings.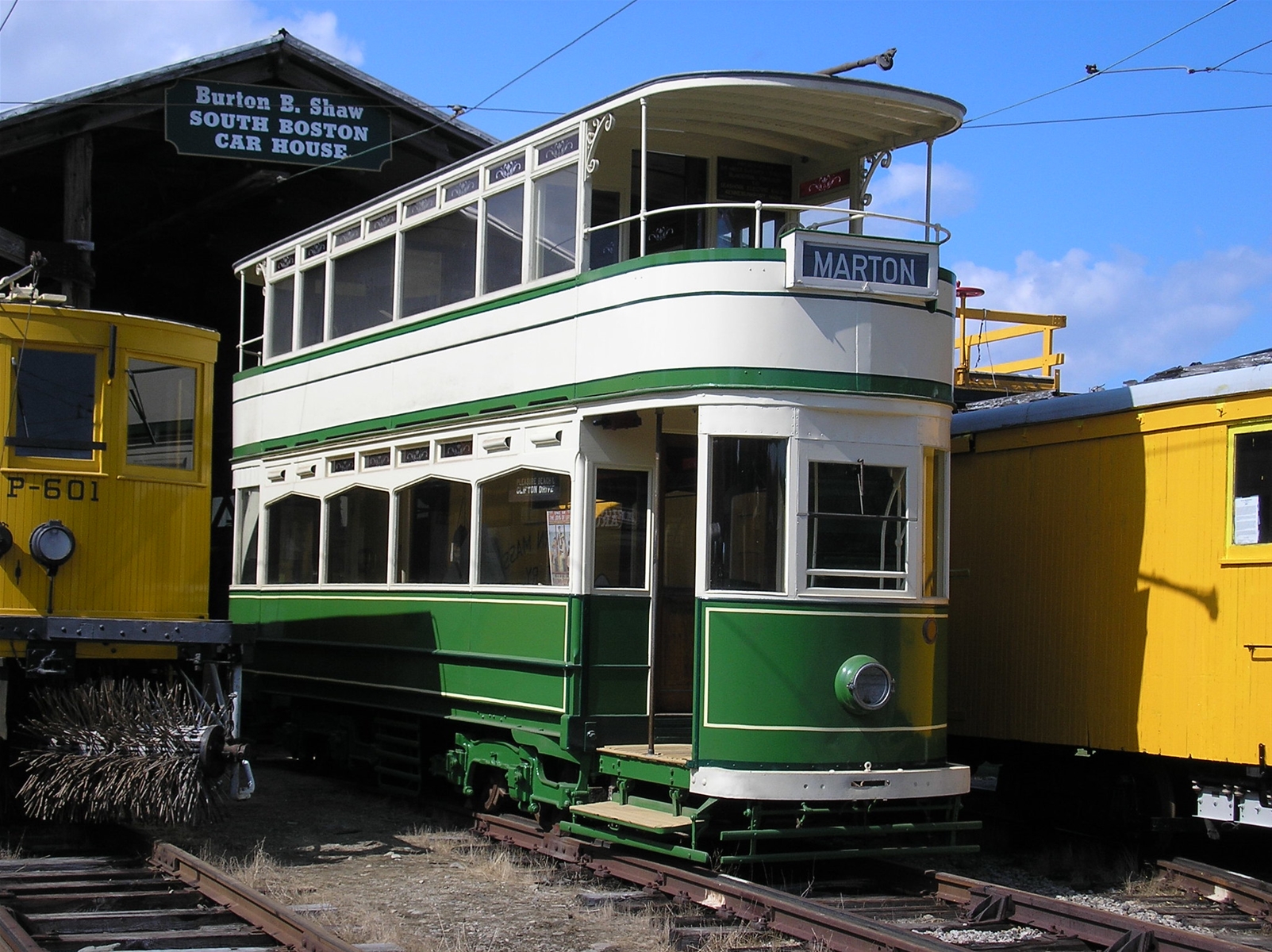 Photo Credit: The Seashore Trolley Museum via Flicker
The Seashore Trolley Museum is a must-do for those with an appreciation for the evolution of transportation. With more than 250 trolleys, buses and subway cars on display from points around the globe, the museum offers a ride through the history of public transportation - both figuratively and literally. The museum is open daily between Memorial Day and Columbus Day.
Five lighthouses lay within a 20-mile radius of Kennebunkport: Goat Island Light at Cape Porpoise, Wood Island Light in Biddeford, Whaleback Light in Kittery, and Cape Neddick "Nubble" Light and Boon Island Light in York. Though only Goat Island and Wood Island are open to public access, all of the area's lighthouses are photographically accessible for sightseers seeking picturesque backdrops.
Historic landmarks stand as testaments to the past and examples of striking architecture. St. Ann's Church is a magnificent stone chapel built in 1887, offering views of the Atlantic Ocean and Kennebunk River amidst seaside gardens. The "Wedding Cake House", built in 1825 is inspired by European Gothic cathedrals, making it a unique sight in Kennebunk, Maine. Though not open to the public at this time, it remains the most photographed house in the state.
An easy way to catch sight of some of the area's most significant sites is to climb aboard the Intown Trolley for a guided sightseeing tour.
The 45-minute narrated tour covers prominent points of interest along the village and the coast, including President Bush's Estate, the Franciscan Monastery, the Beaches, Spouting Rock, Blowing Cave, and more. The trolley runs hourly each day from Memorial Day weekend through Columbus Day. Your fare is good all day long to hop on or off at any stop along the way.
Kennebunkport Beaches
Among the 5,000 miles of coastline in Maine, the beaches of the Kennebunks are some of the finest.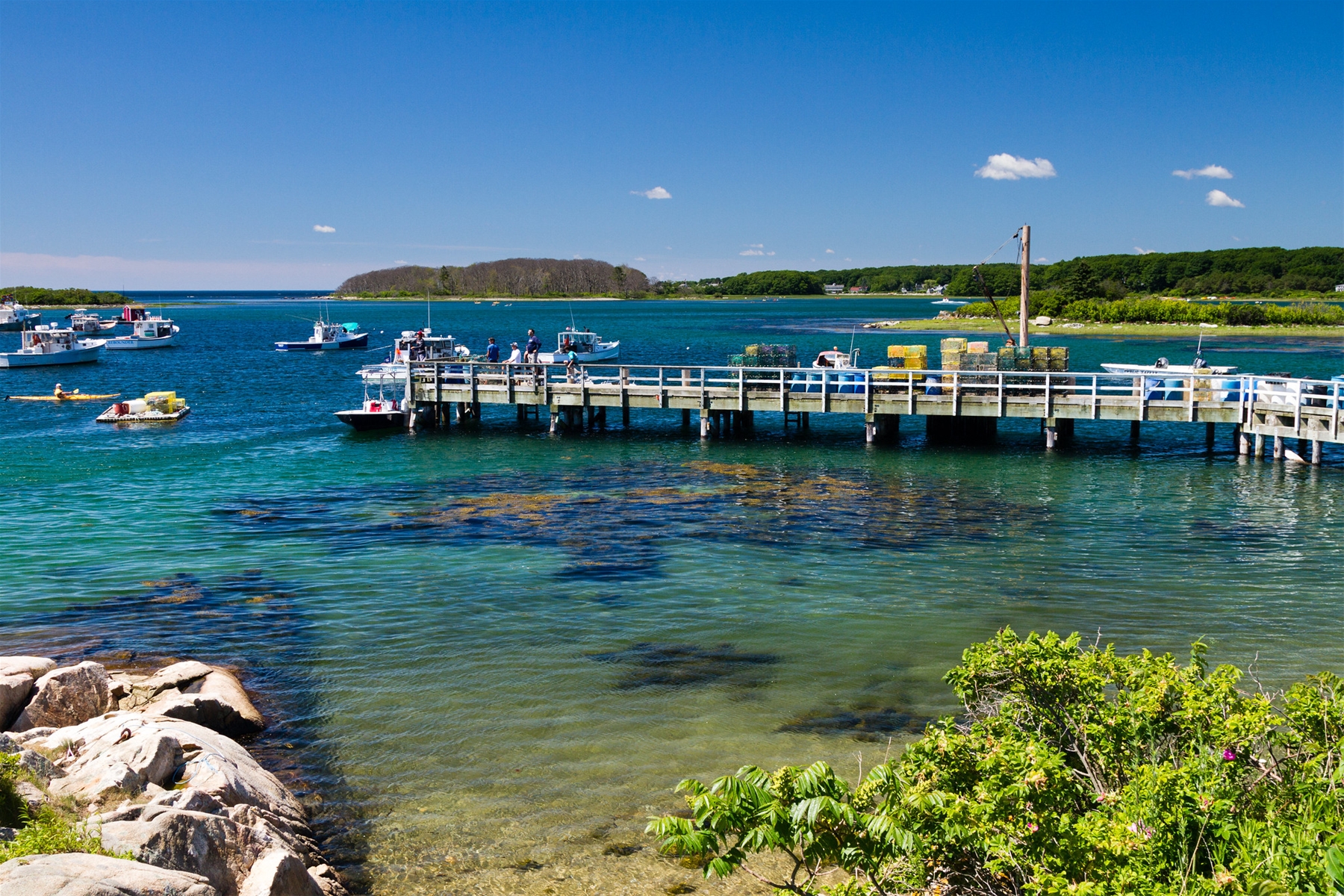 Photo Credit: Livio Barcella via Flickr CC2.0
The Kennebunkport beach area is comprised of five separate beaches: Colony Beach, Cleaves Cove Beach, Parsons Beach, Goose Rocks Beach, and Kennebunk Beach - which is technically made up of three additional beach areas: Mother's Beach, Middle Beach, and Gooch's Beach.
Each of the area's beaches has a vibe of its own, and collectively, they make up the ideal New England coastal getaway.
Colony Beach (aka Arundel Beach) is nestled at the mouth of the Kennebunk River on the Kennebunkport side. This 150-foot stretch of sand and pebble beach is a natural hidden gem - secluded from the thick of the crowds, with limited parking available at Ocean Avenue - no permit required. Overlooking the Colony Beach area - one of our favorite views, even in the snow!
There are no public restroom facilities or lifeguards at Colony Beach. This is the perfect quiet spot to enjoy a sunset, or take a dip in the breakwater, where swimming conditions are ideal. Colony Beach is also where you will find parking for the Parsons Way Shore Walk. Another isolated beach nook tucked off Ocean Avenue, Cleaves Cove Beach is a tiny patch of rocky undeveloped shores. There is no on-site parking, lifeguards or public facilities. Visit at high-tide to catch a dramatic whitewater spray display over the craggy coastline.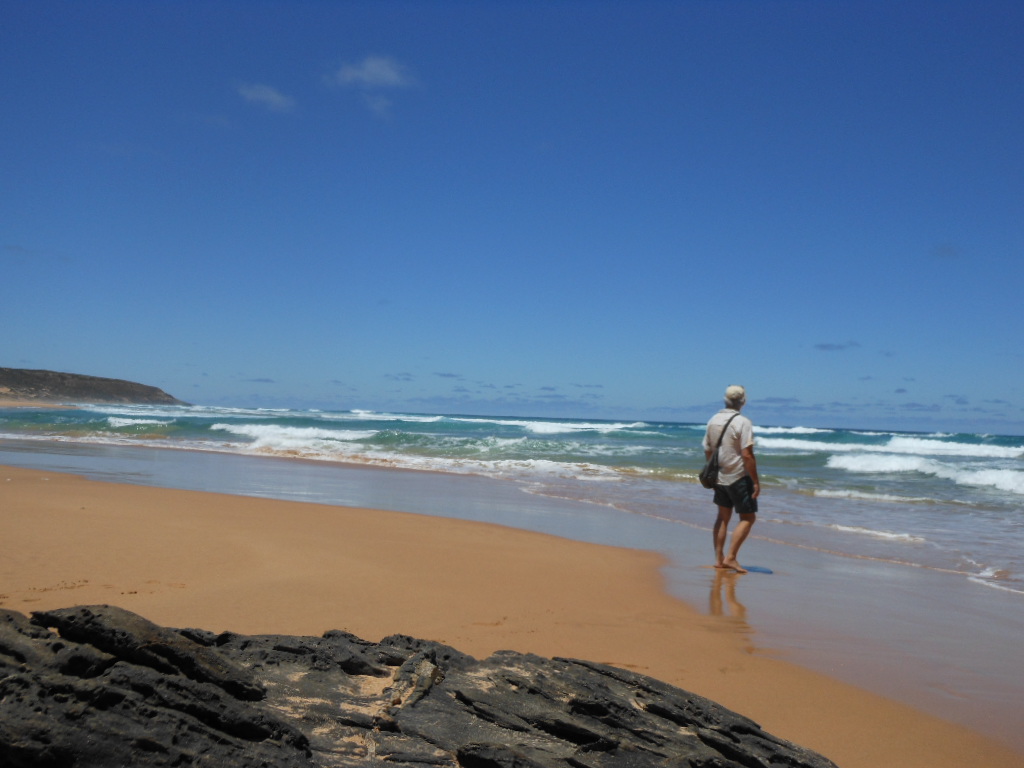 Photo Credit: Michael Coghlan via Flickr CC2.0
Parsons Beach is a small, privately-owned beach which is graciously open to the public year-round. There are no public facilities here and limited parking, but the undisturbed shores are wide and inviting for a serene escape. Parsons Beach is rife with opportunities for birding, fishing, and just relaxing.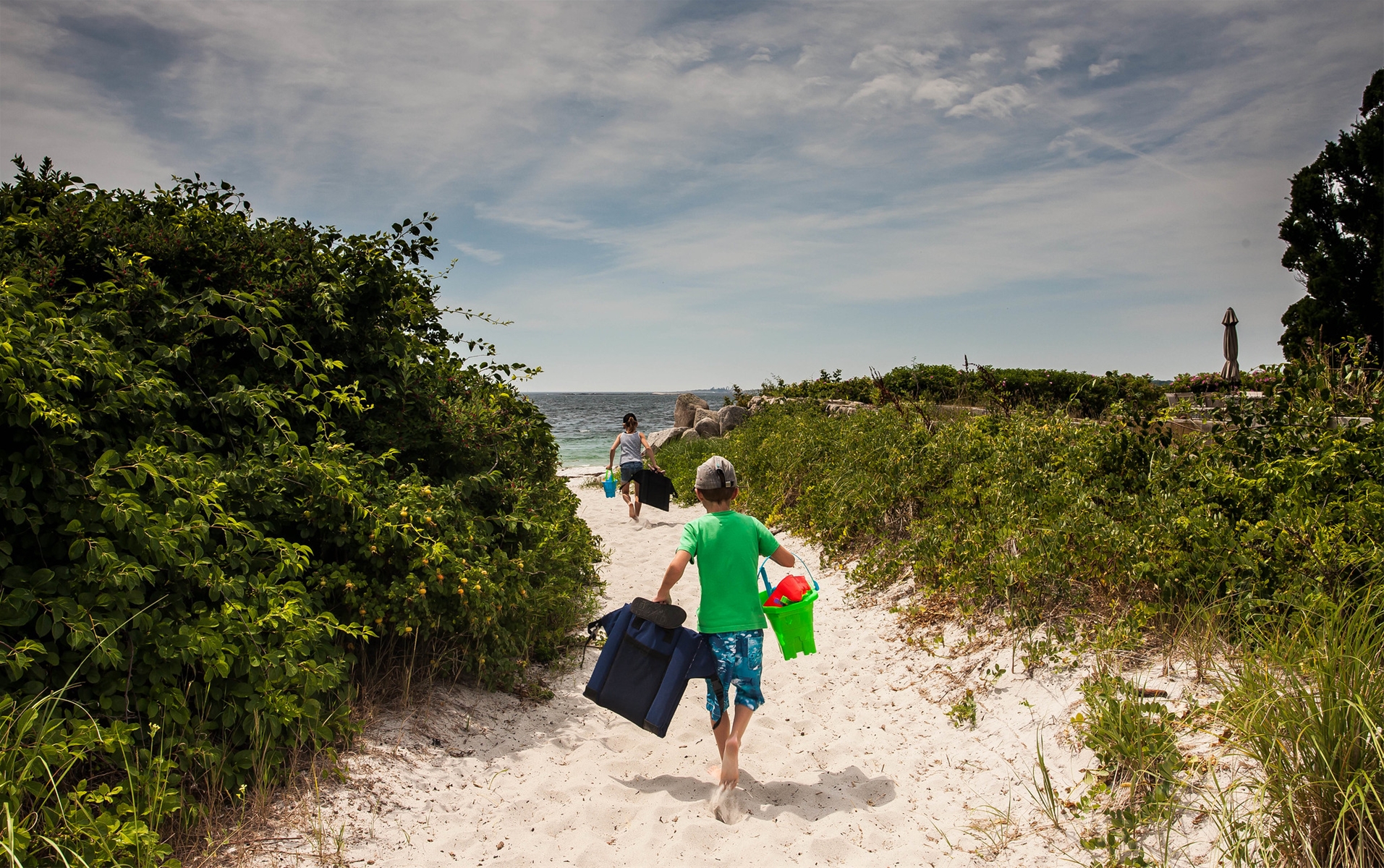 Photo Credit: Peter Rintels via Flickr CC2.0
Goose Rocks Beach is home to three miles of exquisite powder soft sands on Kings Highway in Kennebunkport. One of the most scenic beaches in the state, Goose Beach is a favorite among walkers, birdwatchers, and beachcombers.
The warm, sheltered waters along the barrier reef offer a gentle surf, setting the stage for stunning views of Goose Rocks and Timber Island, just off the coast. Scour the shoreline for lucky sand dollars at low-tide, or watch for migrating geese, piping plovers, and lesser terns amidst the sand dunes and beach grass.
There are no restrooms or lifeguards on duty here. Parking passes are required at Goose Rocks Beach from Memorial Day through Labor Day. Passes are sold at the Goose Rocks General Store, the Police Department on Main Street, and the Town Office on Elm Street.
The Kennebunk beaches offer expansive sandy shores with nearly a mile of diverse coastline connected by sidewalk paths. Quietly tucked into the rocks along the southern portion of the Kennebunk trifecta, Mother's Beach is a small, narrow swath of perfect sand, and the most family-friendly beach of the bunch.
Kids of all ages will love calm surf and large oceanview playground. Just north of Mother's Beach, Middle beach is the rocky, rugged section of the Kennebunk span, blanketed in smooth black pebbles instead of sand. Gooch's Beach is the largest and most popular of the Kennebunk beaches, on the northern end of the stretch.
With talcum powder white sands and a respectable surf, Gooch's Beach holds appeal for everyone from watersport adventurers to sunbathers. All three beaches are great spots for swimming and kayaking.
Lifeguards keep watch over the Kennebunk beaches during the summer months, and porta-potties are provided seasonally on either end of the span. The collective Kennebunk beaches offer parking along Beach Avenue by permit available at Kennebunk's Town Hall, or passes purchased from parking kiosks and online.
Getting Out On The Water

Photo Credit: Bob Dennis via Flickr CC2.0
With its oceanfront location, Kennebunkport's maritime culture extends back to 17th century shipbuilding. Today, the area is a favorite destination for water excursions of every sort, including kayaking and paddle board trips, sailboat and fishing charters, lobster boat tours, and whale watching adventures.
Kennebunkport and Cape Porpoise are active with shipyards and harbor activities to observe, as well as opportunities to get out on the water for a day of natural recreation, especially in the summertime.
For those wishing to stay near the shore or river-bound, rent a kayak or stand-up paddleboard from companies like Coastal Maine Kayak & Bike or Kayak Excursions to explore the Kennebunk rivers and harbors on self-led or guided expeditions.
Outings are available for all skill levels and interests along the Kennebunk River, Mousam River, and the Kennebunkport Harbor. Launch sites are located off Ocean Avenue at Government Wharf and Colony Beach, Pier Road at Cape Porpoise Causeway, Kings Highway at Goose Rocks Beach, the Mousam River Boat Landing, and Vine's Landing and Little River at Granite Point Road in Biddeford.
There's nothing like relaxing while taking in the sights aboard a sailboat! The Schooner Eleanor is a traditional 55' schooner led by Captain Rich, offering seasonal two-hour tours along the scenic coastline from Cape Arundel to Cape Porpoise. Captain Rich has been sailing the New England coast for more than 25 years.
The Pineapple Ketch is a restored 38' Downeaster Ketch sailboat that has been leading informative tours out of Kennebunkport since 2005. Options include one and two-hour sailing trips, private charters, and sunset sails. For more participatory experiences on the water, consider a fishing charter. With more than 40 years combined fishing experience both inshore and offshore, as well as freshwater bass and trout fishing, Striker Charters gets you out on the water for a customizable adventure with a knowledgeable guide.
Captain Bruce puts his decades of experience to use offering private inshore fishing charters on the Libreti Rose II, a 25' General Marine Down East style fiberglass vessel. Two, three, and four-hour trips are available.
Fish aren't the only things lurking in the waters off the southern Maine coast. For a memorable, original New England experience, why not book an excursion on a lobster boat or a whale watching tour? Rugosa Lobster Tours offers a genuine Maine adventure aboard a classic, wooden lobster boat. The one-hour tour allows guests to observe lobstermen at work, or to join in on the action hauling lobster traps themselves.
First Chance Whale Watch allows the option of a whale-watching excursion or a scenic lobster tour. The lobster tour is a 90 minute excursion aboard the 65' Kylie's Chance - one of the largest sightseeing vessels on the New England coast.
First Chance's Whale Watch vessel is 87' from bow to stern, offering 4.5 hour tours along the summer feeding grounds of Finbacks, Humpbacks, Minkes, the rare Blue Whale and the endangered Right Whale.
Bikes And Trails

Photo Credit: https://www.facebook.com/kennebunkport.bicycle/
Visitors also love to explore the Kennebunks by bike, and you can do so without even bringing your own bike along. Companies like Coastal Maine Kayak & Bike on Western Avenue and Kennebunkport Bicycle on Arundel Road offer bicycle sales, rental, and service, as well as guided tours.
Top trails to explore in the Kennebunkport area include Parsons Way, the Eastern Trail, Ocean Avenue, and the Edwin L. Smith Preserve.
Parsons Way Trail is a smooth and casual two-mile walking path along the coastline of Cape Arundel that passes by Spouting Rock and Blowing Cave, with exceptional views of the Atlantic Ocean. The 65-mile Eastern Trail is a mixed-terrain segment of the East Coast Greenway connecting Kittery to Casco Bay.
A new 6.2-mile span of the Eastern Trail connects Kennebunk with Arundel and Biddeford. Ocean Avenue provides a scenic route with views of the coastal New England shores and the Bush compound overlooking the ocean at Walker's Point.
The Edwin L. Smith Preserve, part of the Kennebunkport Conservation Trust, features an intricate ten mile trail system suitable for hiking, mountain biking, cross-country skiing, snowshoeing, birding, and more.
Golf
Golf has long been a favored pastime of Kennebunkport residents and visitors alike. After all, there's something about playing on a course that's presidentially-approved! The region is home to world-class golf courses, and you can find mini-golf courses in the nearby towns of Saco, Wells, Old Orchard Beach, Arundel, and Moody, in case you desire a challenge of a more whimsical sort! The Webhannet Golf Club is a classic 18-hole, par 71 golf course spans 6,100 yards just a block from Kennebunk Beach.
The front nine is a par 35 showcasing three of the toughest par-3's in the state. Features include Kentucky bluegrass fairways, tidal water hazards, white sand bunkers, and undulating bent grass greens. This semi-private golf club, founded in 1901, welcomes a limited number of non-member guest players from mid-April through mid-October.
A favorite course of many past presidents and sports legends, Cape Arundel Golf Club is listed on the National Register of Historic Places as one of the oldest golf clubs in Maine. The Kennebunk River runs through the 18-hole, par 69 course, creating an aesthetically pleasing yet challenging natural hazard.
This private club welcomes public play along its small greens, rolling terrain, and tidal creeks. For a more relaxing golf experience for all ages, visit Hillcrest Golf Driving Range, where the whole family will enjoy the Mini Par 3 Pitch & Putt and practice on the driving range.
Art And Galleries
Home to more than 30 galleries displaying a range of local and international art, Kennebunkport embraces its legacy as a timeless inspiration and muse to creative types from near and far. The Kennebunks are the place to find some of southern Maine's best art galleries, exhibits, and festivals.
On the second Friday of each month in the summer season, the Art Trail of the Kennebunks hosts a Village Art Walk for self-guided tours of more than 20 participating galleries for an evening open house. Works of art cover all mediums and concepts, from sculpture and paintings to jewelry, hand-loomed knitwear, and kaleidoscopes.
As the unofficial hub of artistic activity in Kennebunk's Lower Village, Maine Art Hill is home to nine distinct art galleries in four separate buildings, representing over 40 regional artists - each with connections to the state.
Of the four unique buildings - The Gallery, Shows, The Grand, and Studios - the newest is Studios, a collection of six high-end micro galleries. Open year-round, Maine Art Hill was voted Best Gallery of 2019 by Down East magazine readers and 2018 Business of the Year by the Kennebunk-Kennebunkport Arundel Chamber of Commerce.
Annual Events
Kennebunkport is the site of longstanding annual events with a genuine New England vibe. There is no better way to soak up the unique culture of the region! June's Kennebunkport Food and Wine Festival is the largest event of its kind in Maine, featuring multiple days of tasting events, galas, home tours, and a Grand Tapas party with small plates prepared by local award-winning chefs.
The Kennebunkport Festival is a weeklong event at the start of the summer, promoting fine local food, art and wine. Christmas Prelude in December kicks off the Christmas season with a tree lighting ceremony, caroling at the Franciscan Monastery, and a weekend full of crafts, community, shopping and entertainment, culminating in Santa's arrival on a lobster boat.
Shopping In Kennebunkport
Kennebunkport is just about half an hour's drive from the Kittery Outlets, but there's no need to make a road trip for good bargains on unique treasures. Downtown Kennebunk is home to a charming strip of clothing stores, boutiques, and gift shops, and Kennebunkport's Dock Square is the answer to any retail lover's dream.
Dock Square is a waterfront emporium on the Kennebunk River chock full of original nautical and coastal gifts and decor. If you do make the trek to Kittery, the stretch of Route 1 starting from Kennebunk features numerous antique and specialty shops!
Less than half an hour north of Kennebunkport, the Shops at Biddeford Crossing hosts major name brand retailers. The Maine Mall and Portland's Old Port Historic District are less than an hour away, for those wishing to check off the essential shopping boxes during their southern Maine stay.
Dining & Restaurants In Kennebunkport
Alisson's Restaurant - 11 Dock Square, Kennebunkport, ME 04046
Casual local tavern serving New England-style seafood, pub grub and drinks.
Arundel Wharf Restaurant - 43 Ocean Ave, Kennebunkport, ME 04046
Famous Maine lobster and other coastal fare served in a landmark wharf space.
Bandaloop - Cross St, Kennebunkport, ME 04046
Bistro and bar in a renovated barn space, specializing in organic and vegetarian options.
The Boathouse Waterfront Restaurant - 21 Ocean Ave, Kennebunkport, ME 04046
Waterfront dining on the Kennebunk River. Classic Maine menu focused on fresh seafood with Asian inspiration, lobster bar and craft cocktails.
The Burleigh at the Kennebunkport Inn - 1 Dock Square, Kennebunkport, ME 04046
Weekend brunch, happy hour, and dinner Thursday-Sunday with an extensive wine list, craft cocktails and outdoor dining overlooking the Kennebunk River.
Cape Pier Chowder House - 79 Pier Rd, Kennebunkport, ME 04046
Seasonal eatery at Cape Porpoise offering an oversized deck overlooking the water.
The Clam Shack - 2 Western Ave, Kennebunk, ME 04043
Small seafood shanty with a walk-up counter, serving fried seafood favorites, lobster rolls, and more - from the bridge over the Kennebunk River.
Earth at Hidden Pond - 354 Goose Rocks Rd, Kennebunkport, ME 04046
Farm-to-table eatery serving high-end New American food amid striking natural decor.
Hurricane Restaurant - 29 Dock Square, Kennebunkport, ME 04046
Seaside eatery with upmarket American fare, from rack of lamb to stuffed lobsters.
The Lost Fire Patagonian Grill & Bar - 62 Mills Rd, Kennebunkport, ME 04046
Argentinian steakhouse serving authentic Patagonian barbecue.
Mabel's Lobster Claw - 124 Ocean Ave, Kennebunkport, ME 04046
Lobster dinners and blueberry pie is served up in a seasonal, casual setting.
Musette Restaurant - 2 Pier Rd, Kennebunkport, ME 04046
Casual breakfast, brunch, and dinner cafe with a food truck extension.
Nunan's Lobster Hut - 9 Mills Rd #5706, Kennebunkport, ME 04046
Unassuming seafood shack focused on a lobster-centric menu - from lobster rolls to lobster stew, with clam chowder and non-seafood alternatives.
Ocean Restaurant at Cape Arundel Inn - 208 Ocean Ave, Kennebunkport, ME 04046
Glass-walled, waterfront, fine dining with a view of the Bush compound and locally-sourced ingredients.
Pier 77 Restaurant - 77 Pier Rd, Kennebunkport, ME 04046
Upscale eatery offering traditional yet creative American cuisine complemented by an unrivaled view.
Port Lobster Co Inc - 122 Ocean Ave, Kennebunkport, ME 04046
Located where the river meets the ocean, for direct-from-fishermen fresh seafood.
Rococo Ice Cream - 6 Spring St, Kennebunkport, ME 04046
Legendary handmade, creative concept ice cream in an array of wild flavors
Roma Pizza - 5 Union St, Kennebunkport, ME 04046
Locally–run pizzeria featuring hand-tossed thin–crust pies and subs in a cozy ambiance.
Salt & Honey - 24 Ocean Ave Unit A6, Kennebunkport, ME 04046
Intimate, minimalist cafe offering casual New American comfort foods and craft cocktails.
Stripers Waterside Restaurant - 133 Ocean Ave, Kennebunkport, ME 04046
Upscale seafood restaurant and lounge serving breakfast, brunch, and dinner, with a large deck and expansive lawn overlooking the water.